Thomas Menguy | October 12, 2009
After a huge AdobeMax in Los Angeles (more on that later, in another post and twitter), we've headed to San Diego for one day to look around this year CTIA, and attend the WIP Jam session.
Two words about San Diego: this city is GREAT! Go go Gaslamp! and the new Hitlon is just amazing…enough tourism.
Here are some bad shots (from by old iPhone 3G) about what we've seen:
First some great devices from Samsung … non smartphones, but who could tell the differences today?
The Jet was interesting with a nice TouchWiz main screen.
The following are WinMob phones … with winMob 6.5 (not sure for the Omnia II)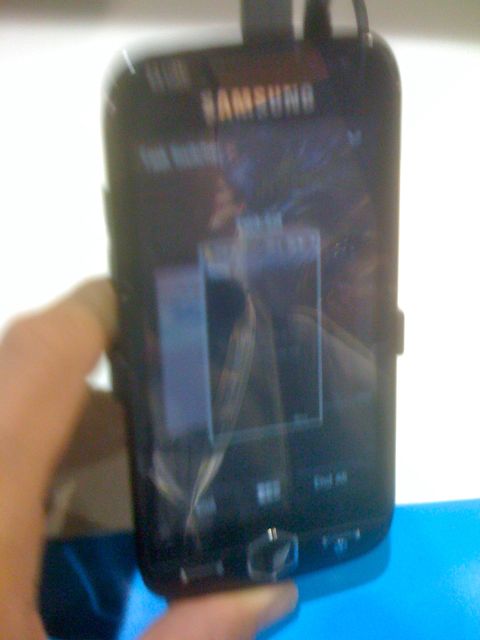 HTC was there on the Microsoft Booth to show a nice one with winMob 6.5 …
What to say about this new WinMob release: it was say to be an evolution, I'm not even sure it is, the finger navigation , either on the HTC or the Samsung, was frustrating, it was difficult to get what you needed to happen, really error prone.
The aesthetics were slightly modified on the higher menus level, some simplification toward network configuration. The main screen is now mimicking the iPhone application list … well not with a simple icon grid but with an hexagonal layout. The Samsung has a custom front looking like the "cards" of the Palm Pré, I don't know if it is a Samsung one or an SPB one like shown in the last picture (SPB was on the Microsoft booth).
The flashiest booth was the Android one…but with only one device : the Moto Cliq…

…and well, this is not the Razor Moto was looking for. Hardware is ok without being sexy and the Moto front-end to Android seemed complex and cluttered to me, but perhaps I didn't given enough time to it.
Nokia was there, little booth nearly no devices … except their laptop


And really I liked it: it was running windows 7 VERY smoothly (PowerPoint 2007 was very fast to load, a good bench), and the battery life is said to be 12 hours. Not bad if you know that this thing has a 3G modem, and the hardware is awesome, aluminium finish, and the price 500$ without operator subsidy … it may be out at 200$ with a service plan : this may be the best traveller companion ever built…Our exec will have to look at this one!
An interesting device : The Peek, a nice little inexpensive mail machine
And for the ELIPS3 team : a picture of a Device Anyware rack : we are using this service every day and it's darn good! So look at it in action, really cool stuffs
One last word about the WIP Jam session: Refreshing.
This no tie session (the real rule really enforced

) was about application development but more importantly bringing the app developers together in a very casual way, and well it worked! Panelists were great (even a VC with deep mobile world knowledge!) and the informal discussions too. Really I'll try to be there for the next one, with a little bit more preparation to present our ideas, I encourage anyone interested in mobile to attend.